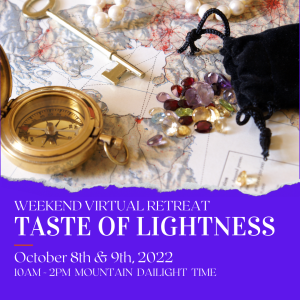 "Taste of Lightness 2-Day Virtual Retreat",
with Lynda Marie Roy
Oct. 8, 2022, and Oct. 9, 2022
Men and Women are invited to
a Weekend Virtual Retreat, 4 hours each day
Same Times Saturday and Sunday:
London GMT, 5pm-9pm
Eastern EDT 12pm-4pm
Central CDT 11am-3pm
Mountain MDT 10am-2pm
Pacific PDT 9am-1pm
Benefits:
Find your center.
Identify the true you.
Reduce your stress.
Savor some nutrient-dense Plant-Based foods.
Learn how to love and not judge yourself.
Why is it important?
So that you can:
..keep your centeredness and connection to God.
..tune out the mind chatter that leads to suffering.
..soothe your nervous system.
..stop storing stressful emotions in your body.
..be your own best friend and safe place.
..flow with life circumstances as they unfold.
..create some decadent plant-based snacks.
..discover the beauty of your soul's essence.
Price $97usd
Message Lynda Marie Roy for more details