FOR IMMEDIATE RELEASE:
Email: support@ezwaynetwork.com
Call: 1-877-399-2929
"3rd Annual EzWay Awards Golden Gala"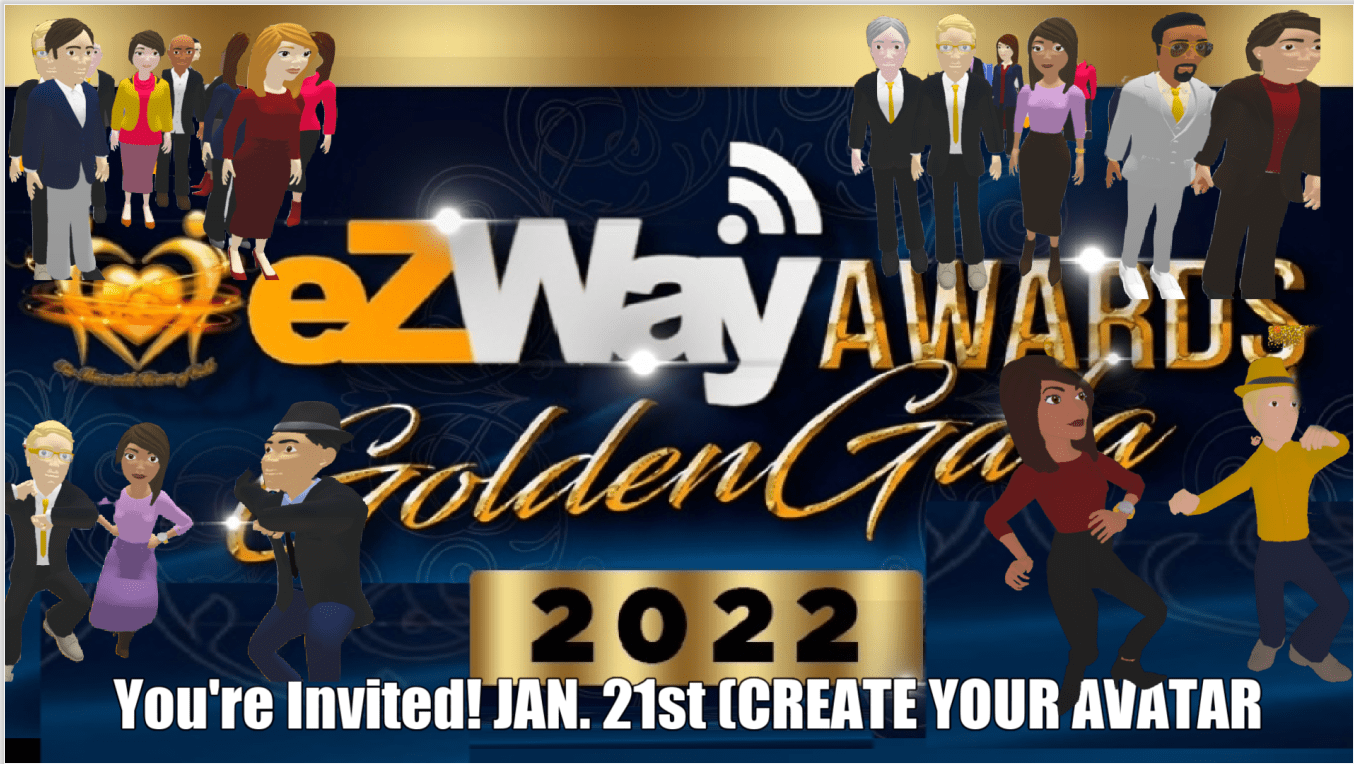 Throughout the multiverse of mergers and acquisitions companies like Apple and Amazon have thrived where others have failed. However, eZWay Broadcasting's CEO, Eric Zuley, also referred to as the "Digital Dick Clark"  has stayed the course of this digital millennium and grown his platform to dizzying heights. Now it's time to really spread the wealth with the Third Annual eZWay Wall of Fame Golden Gala.
     An epic event will launch and reveal to the world immeasurable game-changing opportunities that will transform the lives of the many who will participate and tune-in. There will be an App demo that encompasses over twenty years of innovation, and the 3rd annual star-studded eZWay Wall of Fame Golden Gala Awards Show extravaganza that gets bigger and better every year.
     First, Jan. 21th 2022, from 3:30 PM – 10 pm an 8-hour virtual business booth networking demo the new App which cojoins two decades of modernization with technical solutions for businesses and talents to gain access to top influencers, elite business solutions, and the ability to connect with service providers, speakers, entrepreneurs, CEO's, and celebrities from around the world at the touch of a button. 
     Then, Jan. 21th 2022, EzWay's 3rd Annual Golden Gala Awards. Last year's Host, former Entertainment Tonight Host, Pat O'Brien was exceptional in the final award show performance of his iconic and illustrious career.  This year's award show will be hosted by Eric Zuley, Hollywood Walk-of-Fame Honoree Kate Linder (The Young and the Restless) and actor, director Trae Ireland (Family Time) and Johnny Venokur (TV Personality, VH1, Actor Paramount Plus).
This year the event will take place from 5pm-8pm PST, then there will be an interactive networking party that will be from 8pm-11pm PST.
     The interactive networking party takes place in a virtual world metaverse  from 8-11pm PST and will include 4 stages with live performances, dancing, a concert, meet and greet, and a map with the different venues which you will effectuate with a Virtual Avatar that will simply teleport you to your desired location(s) within the event.  I know, cool huh?
    There will be a Musical Performance by  legendary singer Bootsy Collins of the Parliament Funkadelic, Leroy Butler the singer who brought us "Who Let the Dogs Out!", a dance performance by electrifying Soul Train dancer Scorpio,  comedy by supermodel, actress Eugenia Kuzminia, award-winning singer John Michael Ferrari and Actress/Singer Kitra Williams (Diary of a Mad Black Woman), C-Tru, a viral sensation for his song "California Party" Feat. Snoop Dogg was Discovered by DMX. You will literally be blown away by the star-studded lineup, which will undoubtedly be a show that goes down in the history books. 
Hosts: 
Eric Zuley
Kate Linder
Trae Ireland
Johnny Venokur
Segment Hosts:
Queen Corazon
Katherine Kovin Pacino
Megan Johnson
Honorees:
Kevin Sorbo (Hercules) 
Omar Periu (Co-Founder of LA Fitness)
John Carr (American Philanthropist) 
Bootsy Collins and wife Pattie Collins – Parliament Funkadelic 
Damon Feldman (Founder and creator of Celebrity Boxing) 
Bill Walsh (Founder and CEO of PowerTeam International)
Cylk Cozart (Award winning Actor/Director) 
Dr. Joe Vitale (The Secret) and Lisa Winston- Iconic Power Couple 
Richard Tyson (White Men Can't Jump)- In Front of Lens Legend Award 
Andy Dick Celebrity Comedian) 
Hawthorne James  (Star of "Speed" and "Five Heartbeats")
Eric Roberts (award winning actor) and wife, and Eliza Roberts 
Legend Presenters:
Sharon Lechter  (Best Selling Author) – Top Author Legend
John Carr – The Frank Shankwitz Everyone Can Be A Hero Award
Kate Linder – Volunteer Legend Award
Alec Stern (Legendary Entrepreneur) Entrepreneurial Achievement Legend Award
Jeff Hoffman (Priceline) – Serial Entrepreneur Legend 
Lester Speight (Transformers) Don't Talk About it Be About It Legend  
Dr. Dante Sears (Founder of Wealth XO, SearsX) – Heart of Gold Legend Greg Reid (Secret Knock) Power of Perseverance Legend
Jim Zuley (Podcast Host) Faith Conquers All Legend
Shea Vaughn (WWTVN) World Wide Impact Legend 
Zondra Evans (Zondra TV)  First Annual Blue Rose Brilliance 
Category Winners:
Ronnie Tsunami- Mentor of The Year Award 
Michael Adam Cohen -Master Connector of the Year
Adam Chandler – Tech Master Award
Thomas Churchill- Filmmaker of The Year Award 
John Michael Ferrari – Performer of the Year Award
Leroy Butler – Entrepretainer Award 
Marlena Martin- Event Producer of The Year Award 
Master Teresa Yang – Health Professional of The Year Award
Ruth Wishengrad – eZWay Family Award 
Flash Bugatti – Rising Star Award
Doug Ferfuson – eZWay Behind the Scenes Award
Dr. Wendy Labat – Zondra TV Blue Rose Brilliance Award 
Patty Sadler- Sharon Lechter Top Author Legend Award
Brian Willis – Frank Shankwitz Everyone Can Be a Hero Legend Award
Jen Duplesis – Greg Reid Power of Perseverance Award
Kitra Williams – Lester Speight Don't Talk About it Be About It Legend Award
Jason McNamara – Alec Stern Entrepreneurial Achievement Legend Award
Shawn Bearman- Jeff Hoffman Serial Entrpreneur Legend Awards
Tracey Richards – James Zuley Faith Conquers All Legend Award
David Chametsky – Speaker of the Year Award
Lynda Marie Roy – Dr. Dante Sears Heart of Gold Legend Award
Matt J Doyle – Podcaster of the Year
Rachanaa Jain -Business Woman of the Year
Tony Taylor- Affiliate of the Year
Bright Enablele – Businessman of the Year
Thomas Churchill – Filmmaker of the Year
Shyla Day – Influencer of the Year
Master Teresa Yeung – Health Professional of the Year
Asim Ali – Kate Linder Volunteer Legend Award
Carmelita Pittman – The Shae Vaughn Award World Wide Impact Legend
Performers:
Bootsy Collins 
Peppermint Pattie
Scorpio Legendary Soul Train Dancer 
Eugenia Kuzminia – Models of Comedy 
Leroy Butler
Fly Dance Group 
C-Tru with Snoop Dogg 
John Michael Ferrari
Dr. Kitra Williams, As seen on Tyler Perry and Oprah projects 
Shevyn Roberts – Award winning artist, opened for Justin Bieber
Music composed by: Schroeder Nordholt
     With the world on edge for transformation, power-players are congregating as they understand EZ's digital mastery. His innate desire to inextricably draw these masterminds together is genius. If you are striving for more influence, connection to greater audiences, and to stand out in your field, then go where the brightest stars are and bask in an array of emulsion by doing it the EZ Way! eZWay stays true to their calling by allowing luminous innovators and talents to shine and collaborate while doing what they love.
Sponsors: Streamworld (Platform) No more 9 to 5 Club, Rock You Academy, Standout Stars Speaker Bureau, SOS TV, Blue Diamond Event Management, Gloverzone DL Pictures, Anerrick Management/Media Extreme Team, CMT SOLUTIONS, Wealth XO, SEARS X, SPORTS AND TACOS, New LIfe Clarity Publishing, PurelandQiGong.com
Non Profit Beneficiaries: Let's Make The Difference, Better Vision For Children Foundation, Project Thrive
Show your support and make an early donation to "Let's Make The Difference, Better Vision for Children" – EZWay Cares Donations